The Good Stuff in the Seller
May 02
Penney Wise, or Sound Foolish?
You probably heard recently that longtime retailer JC Penney bailed on their image makeover strategy by canning its newly-appointed CEO and Apple retail guru Ron Johnson. One of his main efforts was to eliminate the concept of "discounts", and instead focus on everyday low prices. I guess we can call it a failed one-year experiment.
Now, just a month later, JC Penney decides to issue a public apology in an effort to drive their customers back into their stores. Perhaps sensing an opportunity to put all of the blame on Johnson, here is their fluffy apology video - you decide if it's effective:
Click here if you cannot see video above
Now, I haven't been inside a JC Penney store in decades, so perhaps this video isn't targeted at me, but I'm not sure who would resonate with this "apology".
Obviously, customers that left prior to the Johnson CEO hire are already gone. Any shoppers they gained because of the makeover attempt are definitely not coming back, since JC Penney is apparently "apologizing for this" and going back to their old ways. The only base they're attempting to lure back is the loyal fan base from the old days - aren't they the ones who enjoyed getting good products at discount prices? Because of that, I'm not sure this piece that presumes its old customers will simply flock back is going to resonate, but that remains to be seen.
I think the PR folks from JC Penney should take a lesson from our old friend Howard Humphries, CEO of Schooner Tuna from the classic 80's movie Mr. Mom.
I couldn't find the clip online, but here's what Humphries had to offer his loyal tuna customers who experienced harsh times:
"All of us here at Schooner Tuna sympathize with all of you hit so hard by these trying economic times. In order to help you, we are reducing the price of Schooner Tuna by 50 cents a can. When this crisis is over, we will go back to our regular prices. Until then, remember, we're all in this together. Schooner Tuna. The tuna with a heart."

Okay, that was cheesy. But my sense is that JC Penney can reengage with their traditional base by offering some serious incentive to get back into their stores. If image was the thing that got them into trouble in the first place, then let money talk and get 'em back in to show them how genuinely serious you are about bringing back the good times. Offer up some great discounts to get them back in and see what you are all about, not some goopy video that doesn't really sound like an apology.
By the way, you want to make an apology? Then make it sound like one.
Click here if you cannot see the video above.
Apr 30
No-No-No-No-YES!
Did you know that 80% of non-routine sales occurs after 5 follow-ups? This insightful read from Dynamic Business shows that far too often, sales people give up on customer opportunities way too early - in fact, 44% of sales people give up on opportunities after a single "no".
Click here if you cannot see video above
The best way to get customers to a "yes" sooner is by getting them to do their homework before you even start your conversation with them. It's the difference between selling and buying.
Which is why I've always loved this graphic.
You read about my thoughts on buying versus selling here.
Feb 26
The 10 Stupidest Tech Products That I Know You Want to Buy!
I love tech gadgets probably more than most, but these below are a sign that we've literally fallen off the deep end. So while the Mayan prediction that the world has come to an end didn't quite come true, here's some evidence that we might actually be getting there. So presenting… the 10 Stupidest Tech Products That I Know You Want to Buy:
#1: The Umbrella Texter! 
ROTFLMAO! It's raining and I don't care! I can still text!
2. The suitcase with a built in scooter so you can "OJ in style" through the airport!
I would love to see one of these guys sporting through O'Hare - only one seat left at the airport bar - no problem! Wheeeeee!
3. iPhone hard to read in the sun? Not anymore!! 
Bonus feature! You won't see the strange looks from people, cuz you'll be immersed in a Downton Abbey world of your own! By the way, does this hat make me look funny?
4. Stay focused with this multi-screen rearview mirror! 
Better yet! Turn your rearview mirror into a multi-screen sports bar! Never miss a game - get ready for March Madness on Interstate 280!
5. It's finally available! The Mars Rover back massager for those tough to get to spots!
Watch it stick the landing! By the way, I have no idea where the remote control is in this picture…
6. No shoes? No tan? No problem! Get rid of that pesky golfer's tan with this awesome tanning bed for feet only!
And if you get too much "sun", you can just pull up the white socks and hide 'em!
7. Don't text and drive! Instead, type a full 10-page memo and drive!
Warning: Do not attempt to make any turns while typing
8. Heated USB kitty gloves for those cold days. 
Do you have a funny feeling that someone is staring at you?
9. Family vacation? Scoot right through security by teaching your kids proper airport etiquette with a mini TSA station!
Nude body scanner characters sold separately.
10. And of course last but not least….. iPad pants! 
Not only functional, but you can be one of those cool sagging pants dudes!
So rush out and buy these now! Before the world ends!
Jan 11
Jambox: Attack of the Clones!
I wrote in a post two years ago ("Jawbone Jambox: Speaker of the House") after I bought a Jawbone Jambox, a hot Bluetooth speaker that I thought it would be the product to ignite a new consumer electronics product category: the Personal Speaker. 
Based on what I saw at CES 2013 this week, I would say that it has come true, and if imitation is the greatest form of flattery, the Jambox should be feeling really flattered, as there were aisles and aisles of gadget companies from the U.S., China, Korea (Yes, every one of these guys were blasting Gangnam Style videos for their demos!), Europe and more, sporting their own version of a Jambox.
So here comes the Attack of the Jambox Clones! 
So now that we expect to see these Jambox clones filling up our Amazon product pages soon, what the next gadget success story that will be duped? I'd say that the good people from Mophie have created something worth copying in their awesome JuicePack portable battery product. I mean literally.
Dec 16
[video]
Apr 14
Car Chase Scenes Never Go Out of Style
You gotta love a good car chase scene! This is one of the funner videos you'll ever see: mesmerizing animation, great story & just a smidge over 3 minutes - awesome ending! More indication that great storytelling by filmmakers continuing to make its way into online videos - check it out!
Click here if you cannot see the video above
But is it the best car chase scene ever? No way…. this classic from "To Live & Die in L.A." is still the gold standard after 27 years - still haven't seen anything rivaling this riveting 6 minutes ever! But if you watch the clip below: don't think the fun ends at the train scene… it's gets way better!
Click here if you cannot see the video above
(note: some minor amount of NSFW language in both clips)

Mar 26
Holy Guacamole, this is cool!
Sometimes you run across a video that is just mesmerizing… like this one! This is the latest stop-motion masterpiece from film maker PES, who also made the equally mind bending Western Spaghetti.
And here's his YouTube page to see more.
click here if you cannot see video above
Feb 12
Behind Every Picture is a Story of a Thousand Words
Take a look at this picture. Apparently it is viewable on one of the many subway trains in New York City, and painted by well known artist Sophie Blackall (parents may recognize her work on Ivy & Bean book covers). It's called Missed Connections.
Click here or on the image to enlarge (which will open in a new window)
New York subway riders probably spend at most a minute looking at it, and many perhaps never think of it as anything more than a drawing of people riding the subway and go about their day never thinking anything more about it.
Now watch this short video about the artist, and glean some insight as to the story behind the picture. It's only a few minutes long.
Click here if you cannot see video above
The picture all of a sudden becomes a lot more interesting when you're able to hear the story about the journey that led to the final piece. To read more about the artist and story of the picture, click here.
The Old Cardboard Box
This got me thinking about a personal experience last year at my 9-year old's school. If you have an elementary school aged child, you probably have experienced a similar thing. Near the end of the year, your teacher sends home all of the artwork created by your child in a giant bag or box. You spend a few minutes oohing & ahhing at each piece as you flip through them, perhaps registering in your mind nothing more than "great job, kid"… especially if you have dozens and dozens of these art projects to sift through (and please tell me that I'm human by agreeing that while you're plowing your way through them, you're thinking to yourself, "Holy crap, what are we going to do with all this stuff at home???").
Just as with the subway picture above, I didn't spend more than a moment on each piece, as I was only looking at the final result, and not paying attention to the journey that led to the creation of any particular piece.
The Journey Versus the Destination
Last year I was volunteering in my daughter's art class, where I was there to simply help the art teacher in any way possible: help kids cut different types of fabric, thread yarn through a needle, or just clean up after they're done, so that the next class can be ready to go with a clean room.
On this particular day, the art teacher had the kids working on a project where she asked the kids to make foam animals. Kids were given scrap pieces of packing foam, and they were to cut out shapes and hot glue them together to make an animal. They could create any type of animal, real or made up, the only rule was that your creation had to include 4 legs and a body. That's it.
She started the project by making a sample animal so that the kids could see how it was done, but other than that, there were no rules. As the kids started working away at their animals, the teacher told me that this particular art project was specifically designed to help develop the children's executorial skills. With only one simple rule to adhere to, the kids had free reign to make decisions throughout their project that apparently were similar to those of a business executive: working with a limited set of supplies and materials, making a creature too tall would cause it to be too wobbly to stand up, while making an animal such as an elephant or bear required that a child recreate in foam what they have seen a million times in pictures or at the zoo. At the conclusion of the project, the kids displayed their final creations on a table where the art teacher made comments about each one. I was fascinated that there were no two creations that were alike: some had created elephants or bears, and some had created made-up animals that were super tall with wiry legs, while others made boxy robots that looked like they came from a sci-fi movie.
I am sure that when parents sifted through that art pile at the end of the year, that the foam animal got perhaps a minute of attention. And it might have found the round file when it made its way home. But the cool thing about it was that there was a real purpose for the project, and the art teacher planned that project with that in mind.  And that's the wonderful thing about art: the beauty in art is as much about the journey as it is about the final piece.
So the next time you are looking at an art project that your kid brings home, try to build a complete picture in your mind by getting a sense of why the art project was assigned, and what was your child thinking about when they made it. It would be great if we could see a slick video like the one above about Sophie Blackall to help us understand it, but a simple narrative from your child about the journey of the project will tell you everything you need to know about the piece, which might cause you to think differently about the other stuff in that cardboard box.
Note: I was inspired to write this piece because I am so grateful that my kids' school district employs accredited art teachers (as well as science, music, phys ed and library) to instruct our children (through the amazing funding support of our local families and community via our District Foundation). It's sometime easy to cast aside the importance of art when you compare it to other important subjects such as math or English, but you might not truly appreciate what you have until you no longer have it. So support art and music in your schools!
Feb 08
Show Me The Money (That I'll Make in the NBA)
Colleges constantly lure high school athletes to their school by touting academic prowess, school tradition, or perhaps by hiring away another team's key recruiter. Here's another way to measure a college's athletic program success: The Wall Street Journal compiled a list of the top NCAA universities since 1985 whose alumni generated the most collective income in the NBA. They call it the Alumni Loot Index (ALI).
With scores of players across the league over the years, you probably could have guessed that North Carolina & Duke came in at Numbers 1 & 2. Interestingly, only 3 teams from the Pac-12 made the top 25 list: Arizona (#3), UCLA (#10) and Cal (#13). Pretty cool to see Cal fare better than basketball factories Syracuse, Cincinnati and Memphis, as well as many others.
I wonder what the ranking would be if you simply had a category called "No College". With notable players such as Lebron James, Kevin Garnett, Shawn Kemp and Dirk Nowitski, I have a feeling it would be near the top.
Here's the WSJ Piece if you'd like to see the whole thing (may require a subscription).
Jan 31
The Google Chrome Logo is a Beach Ball and other insightful observations from a 5-yr old
A graphic designer decided to show a series of popular logos to his 5-year old daughter, asking her to describe the first thing that came to her mind. The result is this very interesting 3-minute video capturing her impressions of some of our most popular logos: McDonald's (a french fry bent into the shape of an "M"), Olympics (baby toys), and a KFC (a person who matches the color of the restaurant). 
I think one of the more interesting things from this video is how there were certain logos she recognized by name: Nike, Apple & Disney (of course).
Here's the video:
Click here if you cannot see the video above
Wanna play for yourself or with your kid? Here's a few logos I grabbed from the web… what is your first impression of them? Recognize any of them?
scroll down for answers
(Answers: Red Bull, Zynga, Blackberry, nVidia, Lamborghini, LG, Mashery, DropBox)
Jan 29
Hello, Is It Me You're Looking For?
Lionel would be proud…
Click here if you cannot see video above
Same thing on YouTube:
Jan 25
Selling by Letting The Customer Do the Buying
I love this graphic - it's a simple graphic that shows how you can become effective at selling by letting today's customer do the discovering and buying.
As shown, rather than put a lot of energy behind cold calling leads and selling your way to the promised land, today's customer doesn't want to be "sold".
graphic from For Entrepreneurs on Cold Calling 2.0
Instead, they want to go at their own pace to discover their way to a solution, first by doing their own research, then by dipping their toes in the water with some sort of trial offer, and finally, diving in only when they are certain they have arrived at a solution from a supplier that they can trust and commit to.
There's a lot to setting up your sales & marketing approach to make sure you drop the right amount of bread crumbs at each stage of customer discovery, and you can read a great piece in For Entrepreneurs by David Skok on Cold Calling 2.0 to learn more about how to do this. But the short answer is that you have to put together a well-oiled machine in your sales & marketing organizations to make sure each stage of this process is set up to be as efficient as possible.
Jan 21
Can a Mega Company Turn Augmented Reality into Reality Reality?
One of the more eye-catching things to come out of CES2012 was a company called Aurasma, innovators of a technology called Augmented Reality (AR), which overlays virtual graphics displayed on a smart phone onto real-world objects. They have launched a new (and free) mobile browser that allows you to see this slick virtual imagery on top of everyday objects. Imagine a movie poster coming to life on your smart phone, or a video popping up over a graphic imprinted on a juice bottle. Neat. The company was awarded a "Best of CES" award, which shows how groundbreaking this technology really is. Aurasma offers a free iOS or Android download so that anyone can try this out.
Check out this video to see AR in action:
Click here if you cannot see the video above
Although I didn't see the demo live at CES (interesting in that word-of-mouth buzz never brought it to my attention, while many other things did), I was really intrigued with this, and this morning I spent a bit of time reviewing the press videos from ABC News, TechCrunch, Information Week, Engadget and so on. What I noticed was that while the demos were really cool, I found that after they showed a few examples of how Augmented Reaility could be put to use in advertising & promotion, mapping, and instruction manuals, I was losing interest pretty quickly after the "cool factor" wore off on me.
After the "Cool" Cools Off, Then What?
As an example, one of their demos was showing how by using Aurasma, companies could overlay a How-To Video to show you how to inter-connect cables into a router.
Pretty neat. Until I started to think about how painful this experience would be in real life if I was really in dire need of some help in installing a router in my house. The last thing I would want to do is hold up my iPhone or iPad in front of the router to watch a help video - why not just create a help video of someone holding up a router and show me how to connect it up, so that I could have the use of my hands to connect up the wires?
I started to think about the challenge that they were going to face in order to get this slick stuff to become mass market reality. Interestingly, Aurasma is a start-up that was created by UK software giant Autonomy, which was subsequently swallowed up last year by even-bigger-giant HP. So here is this groundbreaking technology, trapped inside a mega company, trapped inside an ever bigger mega company, with aspirations to bring the world into a new era of mobile browsing. I thought to myself, can the company who has struggled to keep pace in the fast moving world of mobile operating systems manage to lead the charge in getting mass adoption of a radically new concept such as augmented reality using a free app download? The reviews of the app are tepid at best, and in fact, there were enough negative ones that they kept me from downloading the app altogether. I even wonder how many of HP's own employees are actually aware of Aurasma's existence. Seems most of them have other priorities to focus on. I recall my days at a mega company and found it really hard to get people to focus on bleeding edge stuff.
So Where Does Slick Demo Sit In a Company's Stack of Priorities?
Aurasma's technology oddly reminds me of the company DigiCom in that mid 1990's Michael Douglas/Demi Moore movie Disclosure, where the fictitious disk storage giant developed Corridor, a super secret 3D immersive virtual reality file management system that was the key to the company's future, but far from the company's core competency. In fact, in the movie, the senior management team at DigiCom seemed preoccupied with fighting corporate politics over who was going to get a promotion, managing production fiascos overseas and covering up other dark secrets between company employees. Corridor was just this really cool demo (although in their case, it was the CEO who was the #1 evangelist behind it), that it was going to face a super difficult future given all of the company's other distractions.
Big companies are usually not great at evangelizing trailblazing new technologies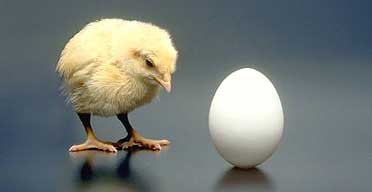 (unless you're Apple), but time will tell if HP can manage to pull this off. The challenge here is that for their version of Augmented Reality to take off, they need to fuel both sides of the ecosystem - people who tag objects with AR, and people who browse for AR tags (which they call Auras). Failure to jump start the former will certainly prevent the latter from becoming mass market. Classic chicken and egg problem.
But this is super cool stuff, so I hope it gets the traction it needs to impact the market, but we'll have to wait and see if they can pull it off. It would be really impressive if they can manage to do that, but I wonder if rather than being trapped inside a huge mega company with all sorts of priorities and issues of its own, would Aurasma's chances improve if they were spun out into a super nimble (and independent) start-up to get the world to pay attention. Based on my personal experiences working inside both a huge company and a start-up, my bet would be that they would be able to get the world to take notice moreso as a laser-focused start-up.
Note: I have no vested interest in augmented reality's success or failure except as an interested industry watcher. AR simply reminds me of other 2-sided technologies in the past that possessed similar promise and challenge in gaining mass market authoring and consumption adoption, some successful, and some not.
Jan 14
[video]
Jan 12
CES - Aside from the glitz, always good to see what's hoppin' in Harbin or crankin' in Chengdu…
CES is the annual eye candy fest where companies spends gazillions of dollars showing you their version of the future. In 2012, the bleeding edgers were showing dazzling 8,000 pixel LCD displays, App Stores on phones, cars, refrigerators and TVs, "Smart TV" (or web enabled TVs), more consumer-friendly 3D TVs (especially LG) and a tablet-centric future. Side note: One of the cooler demos was this company, HzO, who waterproofs your phones and tablets with a patented film process performed during the manufacturing process (check out this quick video where they dunked an iPhone into a tank full of water while playing Lady Antebellum).
The other thing that is always worth making the Vegas trip for each year is to see what the consumer electronics manufacturers from China are touting. Usually, they take whatever has gotten popular over here and have found ways to make them in masstastic volumes and in a plethora of different shapes and sizes. So if what they're cloning is any barometric reading as to what's hot over there (and believe me, China literally made the market for a company I used to be a part of, C-Cube Microsystems), here's what appears to be hoppin' in Harbin, shippin' in Shanghai, and on fire in Anhui:
All things cloud computing
LTE Dongles
Mobile WiFi
Smartphones
Cloud based media players
Android media players
Tablets
USB Memory Sticks