One of the more eye-catching things to come out of CES2012 was a company called Aurasma, innovators of a technology called Augmented Reality (AR), which overlays virtual graphics displayed on a smart phone onto real-world objects. They have launched a new (and free) mobile browser that allows you to see this slick virtual imagery on top of everyday objects. Imagine a movie poster coming to life on your smart phone, or a video popping up over a graphic imprinted on a juice bottle. Neat. The company was awarded a "Best of CES" award, which shows how groundbreaking this technology really is. Aurasma offers a free iOS or Android download so that anyone can try this out.
Check out this video to see AR in action:
Click here if you cannot see the video above
Although I didn't see the demo live at CES (interesting in that word-of-mouth buzz never brought it to my attention, while many other things did), I was really intrigued with this, and this morning I spent a bit of time reviewing the press videos from ABC News, TechCrunch, Information Week, Engadget and so on. What I noticed was that while the demos were really cool, I found that after they showed a few examples of how Augmented Reaility could be put to use in advertising & promotion, mapping, and instruction manuals, I was losing interest pretty quickly after the "cool factor" wore off on me.
After the "Cool" Cools Off, Then What?
As an example, one of their demos was showing how by using Aurasma, companies could overlay a How-To Video to show you how to inter-connect cables into a router.
Pretty neat. Until I started to think about how painful this experience would be in real life if I was really in dire need of some help in installing a router in my house. The last thing I would want to do is hold up my iPhone or iPad in front of the router to watch a help video - why not just create a help video of someone holding up a router and show me how to connect it up, so that I could have the use of my hands to connect up the wires?
I started to think about the challenge that they were going to face in order to get this slick stuff to become mass market reality. Interestingly, Aurasma is a start-up that was created by UK software giant Autonomy, which was subsequently swallowed up last year by even-bigger-giant HP. So here is this groundbreaking technology, trapped inside a mega company, trapped inside an ever bigger mega company, with aspirations to bring the world into a new era of mobile browsing. I thought to myself, can the company who has struggled to keep pace in the fast moving world of mobile operating systems manage to lead the charge in getting mass adoption of a radically new concept such as augmented reality using a free app download? The reviews of the app are tepid at best, and in fact, there were enough negative ones that they kept me from downloading the app altogether. I even wonder how many of HP's own employees are actually aware of Aurasma's existence. Seems most of them have other priorities to focus on. I recall my days at a mega company and found it really hard to get people to focus on bleeding edge stuff.
So Where Does Slick Demo Sit In a Company's Stack of Priorities?
Aurasma's technology oddly reminds me of the company DigiCom in that mid 1990's Michael Douglas/Demi Moore movie Disclosure, where the fictitious disk storage giant developed Corridor, a super secret 3D immersive virtual reality file management system that was the key to the company's future, but far from the company's core competency. In fact, in the movie, the senior management team at DigiCom seemed preoccupied with fighting corporate politics over who was going to get a promotion, managing production fiascos overseas and covering up other dark secrets between company employees. Corridor was just this really cool demo (although in their case, it was the CEO who was the #1 evangelist behind it), that it was going to face a super difficult future given all of the company's other distractions.
Big companies are usually not great at evangelizing trailblazing new technologies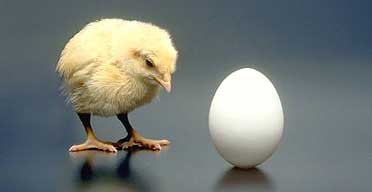 (unless you're Apple), but time will tell if HP can manage to pull this off. The challenge here is that for their version of Augmented Reality to take off, they need to fuel both sides of the ecosystem - people who tag objects with AR, and people who browse for AR tags (which they call Auras). Failure to jump start the former will certainly prevent the latter from becoming mass market. Classic chicken and egg problem.
But this is super cool stuff, so I hope it gets the traction it needs to impact the market, but we'll have to wait and see if they can pull it off. It would be really impressive if they can manage to do that, but I wonder if rather than being trapped inside a huge mega company with all sorts of priorities and issues of its own, would Aurasma's chances improve if they were spun out into a super nimble (and independent) start-up to get the world to pay attention. Based on my personal experiences working inside both a huge company and a start-up, my bet would be that they would be able to get the world to take notice moreso as a laser-focused start-up.
Note: I have no vested interest in augmented reality's success or failure except as an interested industry watcher. AR simply reminds me of other 2-sided technologies in the past that possessed similar promise and challenge in gaining mass market authoring and consumption adoption, some successful, and some not.